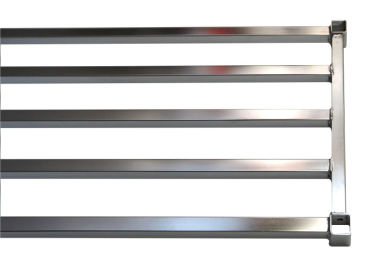 If you are looking for an extremely heavy duty commercial coolroom or dry storage system then dunnage shelving is for you.
The primary function of this sturdy, durable shelving is to store heavy items off the floor, away from contamination, such as bulk flour, sugar, yeast or canned goods. It is best suited to businesses that need to store large quantities of heavy stock.
This dunnage rack is available in a post style system with shelves, holding up to 400kgs per tier, or a floor system, which will hold in excess of 400kgs.
Post Style Dunnage Shelving
For heavy, bulky goods up to 400kgs, this solid storage unit is an excellent solution.
Unlike most heavy duty storage systems, this system requires no tools at all for assembly and can be configured exactly as standard shelving can be, with fully height adjustable shelves for each level. This system is manufactured from square tubing and is designed to withstand heavy loading.
Commonly used in the food services industry, we usually supply this tough and hardy shelving to restaurants, supermarkets, butcher shops and any other hospitality businesses who require large quantities of foodstuffs to be stored off the floor.
If you own a retail store or have other large solid items that need to be stored, this system is not limited to coolroom and dry storage. It can also be used to display goods in shops or at home when normal shelving is not sturdy enough.
Further details:
This shelving is made from square tubing 25 mm x 25 mm x 1.6mm.
To achieve an even safer work environment, the posts are fitted with an adjustable bullet foot that allows the user to fix the shelving unit to the floor and provides 65mm of adjustment. By fixing the unit to the floor, safety is increased as the unit cannot topple over, keeping in mind that when fully stocked this system would be extremely heavy. If you prefer to have the option to move the shelving around your coolroom, a stainless steel disc foot can be used instead.
The 3 different finishes include polished stainless steel, zinc/lacquer or zinc/powder coat.
Sizing
SHELF LENGTHS 600, 750, 900, 1050, 1200, 1350, 1500mm
SHELF DEPTHS 450, 525 and 600mm
STANDARD POST HEIGHTS 3 tiers - 1200mm high, 4 tiers - 1800mm high, 5 tiers - 2000mm high
Dunnage Shelves
If you don't require a lot of storage but still need to keep heavy product of the floor, dunnage shelves are a great solution. Our full welded low lying shelving system will hold in excess of 400kgs and is available in 1 or 2 tiers. This robust coolroom rack is a perfect option for sanitary and convenient storage anywhere your food service venue needs it. Used for items such as large boxes of produce, unopened packages of dry goods, businesses such as supermarkets, markets cafes and restaurants commonly use this coolroom racking. It is ideal for any off floor storage application and can be used in freezers, packing areas, storage areas and displays.
When unstocked these shelves are easy to move around your work area to make the most of your valuable kitchen or storage space.
Further details:
This shelving is made from square tubing 25 mm x 25 mm x 1.6mm.
You have the choice of a heavy duty stainless steel disc foot or castors and the unit will be fully welded for loads in excess of 400kgs.
The finishes include zinc lacquered and polished stainless steel.
SHELF LENGTHS 600, 750, 900, 1050, 1200, 1350, 1500, 1650, 1800mm
SHELF DEPTHS 450, 525 and 600mm
POST HEIGHT 200mm achieves 150mm of ground clearance
If you are looking for heavy duty floor and wall storage for your cool or dry room, dunnage shelving is your answer! Contact our friendly team today.
ZINC COATED
| SIZE | PRICE |
| --- | --- |
| 600x450 | $126.54 |
| 600x600 | $148.85 |
| 750x450 | $134.15 |
| 750x600 | $155.07 |
| 900x450 | $139.33 |
| 900x600 | $161.59 |
| 1050x450 | $146.92 |
| 1050x600 | $167.42 |
| 1200x450 | $155.48 |
| 1200x600 | $179.43 |
| 1350x450 | $160.64 |
| 1350x600 | $185.61 |
| 1500x450 | $200.48 |
| 1500x600 | $233.62 |
| 1650x450 | $209.65 |
| 1650x600 | $239.50 |
| 1800x450 | $215.05 |
| 1800x600 | $246.58 |
STAINLESS STEEL
| SIZE | PRICE |
| --- | --- |
| 600x450 | $162.22 |
| 600x600 | $202.47 |
| 750x450 | $188.88 |
| 750x600 | $221.05 |
| 900x450 | $204.36 |
| 900x600 | $239.90 |
| 1050x450 | $230.45 |
| 1050x600 | $269.60 |
| 1200x450 | $242.19 |
| 1200x600 | $281.37 |
| 1350x450 | $259.98 |
| 1350x600 | $304.77 |
| 1500x450 | $306.78 |
| 1500x600 | $351.00 |
| 1650x450 | $324.57 |
| 1650x600 | $378.10 |
| 1800x450 | $340.07 |
| 1800x600 | $396.73 |